Whether it is for a butcher's cold room, a large supermarket cold room or an industrial cold storage, Frigo l'Entrepôt can build your project with materials which offer the best energy efficiency.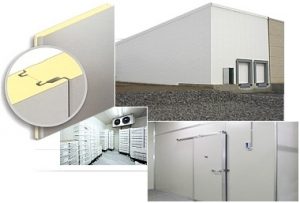 We only use urethane insulated panels, offering the best insulation for you cold room.
Most of our cold room constructions are custom built upon clients specifications following dimensions that are carefully calculated to ensure a perfect interlocking of the insulated panels. We hold 2 different types of insulated panels on inventory. We have "lock types" panels which are precut in our factory and assembled in your location. We also have standard interlocking panels which are cut and put together side by side and scealed to ensure a perfect fit.
Our cold rooms are ideal for:
Buildings under federal inspection
Industrial cold warehouse
Small custom built cold room
Working area for butchers and supermarkets
Floating and ventilated floor on concrete foundation
Insulated panels

We use only insulation panels and the highest quality that exceeds energy standards.
Cold room doors

Several types of cold room doors are available at our location. Come choose yours.
Walking doors

Available in single or double format pedestrian format trans-pallet. White finish or stainless steel with window.
Photos gallery of some cold rooms
For further information on our cold rooms , insulated panels or to get a quote on your upcoming project, do not hesitate to contact us by email at info@lentrepotdufrigo.com or by phone  514-388-8181 during our regular business hours.