Structural Insulated Panels For Indoor Constructions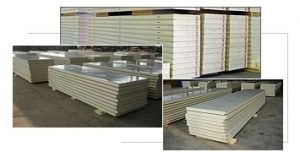 These insulated panels are the most versatile product that exists for refrigerated warehouses and cold storage construction. Easy to install, easy to handle and lightweight, the structural insulated panels are used for the indoor construction of cold rooms, freezers and working areas. Easy to maintain, these products remain glossy for years and are rust resistant for life.
Our insulated panels' inventory consist of new and used panels of any sizes and several types of finish. We have a huge choice of panels available for delivery and ready to install. Contact us at 514-388-8181 to learn about our inventory.

Architectural Outdoor Panels
The insulated architectural outdoor panels installed by Frigo l'Entrepôt are used in the commercial and industrial building constructions that require special and superior insulation. These products are offered in several different colors as well as many surface textures.